There are so many inspiring Scandinavian women! Since the time of the vikings, the voices of Scandinavian women have proven powerful. From history-making politicians to visionary activists, Scandinavian women continue to show the world what they are capable of. The list in this article shares a number of categories, including models, writers,  musicians, and many (many!) more. We're also exploring some of the facets of what life is like for women in this northern region, including what dating and marriage is like.
Here are some important facts about life Scandinavian women, followed by a list of those who inspire us:
Scandinavian Women's Rights
Scandinavia is known as a region with a comparatively high level of gender parity. From country to country, approaches to feminism and the actual level of equality may vary, but overall the UNDP's Gender Inequality Index (GII) shows the Scandinavian countries as being some of the "least unequal" in the world.
The index uses three metrics to assess the inequality in a given country:
reproductive health


labor market


empowerment (which includes political and educational power)
This ranking does not mean that gender equality in Scandinavia is a done deal, however.
There are still big gaps in pay parity and managerial roles for women. In addition, Scandinavia's tendency towards "Janteloven" means that rocking the boat by calling out inequality is generally met with stony silence.
Finally, a lack of acceptance of diversity leads to far less of an emphasis on intersectional feminism, thereby leaving out large swathes of the female population, including Muslim women, women of color, and immigrant women.

LGBTQIA+ rights go hand-in-hand with gender rights, not only because of their intersectional interests, but because the progressive movements that power them typically work together. The history of LGBTQIA+ rights in Scandinavia is a long and storied one, thanks to an incredible groundswell of activism in terms of both gay/lesbian and trans rights.
What is the Nordic Paradox?
This is a term used to describe the gap between the high rates of equality in the Nordic countries (as described above) but high rates of intimate partner violence (IPV).


This concept is typically explained in either of two ways: first, that women in these countries feel more empowered to pinpoint and report abuse, and therefore the rates are higher than in other countries.
The second explanation is called "the backlash effect." It is descried in Young Feminist Europe as, "…in countries with high levels of gender equality, there is a breakup with traditional gender roles…The backlash effect implies that conflicts can arise or increase in cases where partners try to claim control over the relationship.
Therefore, violence is used by partners as a negative response to [the high growth of] women's empowerment and progress in society."
What is "Gender Mainstreaming?"
Gender mainstreaming is a policy tool that considers the interests of men and women equally.
The five principles of gender mainstreaming are:
Use of gender-sensitive language

Use of gender-specific data collection and analysis

Equal access to and utilization of services

Women and men are equally involved in decision making

Equal treatment is integrated into the steering process
Gender mainstreaming is a cornerstone of the Nordic welfare model, and therefore a major part of most of the northern countries' policies.
That said, there are plenty of critiques of gender mainstreaming, including that its goal, "gender equality" is not clearly defined, that it is too binary (i.e. not inclusive of those who do not fall into cis-genders), and that it should focus more on operational changes than cultural ones.
Even so, gender mainstreaming as a tool has proven effective in reaching higher levels of gender parity in an array of areas, and this is evidenced by the Nordic model.
What to Know About Dating Norms in Scandinavia
Let's start out by saying: take this with a grain of salt. Everyone is different, so as with all "generalized" advice, it's important to remember that making room for individual differences and preference is key. That said, there are some things to know about dating in Scandinavia that will be helpful if you're in one of these countries and looking to dip your toe into the dating pool. First, there isn't much of a "courting" scene across Scandinavia.
That doesn't mean people don't enjoy traditional romantic gestures, simply that it's not an expected part of dating. In essence: dating is fairly casual. Expect to split bills unless otherwise noted by one party and to meet at the date location rather than getting "picked up." Being intimate on the first date is not considered negative or unaligned with a long term relationship.
Perhaps the most important thing to know about dating in Scandinavia is this: be straightforward. Mind games and/or beating around the bush is not welcome; people want to know where they stand and what you're looking for, whether that be a casual relationship or something long-term.
While there's no "typical Scandinavian personality," it is true that Scandinavians can be more reserved until they get to know you, so taking time to ask questions and genuinely listen will certainly make your dates more enjoyable (this is pretty good advice…across the board).
A usual date in Scandinavia might be going out to dinner or drinks. Consuming alcohol is definitely a normalized part of dating culture in Scandinavia, but if you don't drink, don't worry! There are plenty of people who don't, and other than the occasional out-of-pocket Christmas lunch, there's no pressure to drink. Dating apps such as Hinge, Tinder, Bumble, Feeld, and Grindr are all popular in Scandinavia.
Want more Scandi dating? See our articles on the best Scandinavian girlfriends and the best Scandinavian boyfriends!
What to Know About Getting Married in Scandinavia
Marriage in Scandinavia is a bit different than elsewhere, even in other parts of Europe, because there's not a lot of tradition around having to get married before having children.
Despite this, it is common for people to get married in a church. Same-sex marriage is legal in all the Nordic countries, starting in Sweden in 2009, through to Finland in 2017. 
Divorce rates in Scandinavia are fairly high, with Denmark, Sweden, and Finland sitting at #10, #11, and #12 worldwide, respectively. Divorce rates (data from 2022) are:
Denmark: 2.7
Sweden: 2.5 
Finland: 2.4
Norway: 1.8 
Iceland: 1.7
These rates are notably higher than the global average divorce rate for 2022, which was 1.6 divorces per 1,000 people.
What are Scandinavian Beauty Traits?
Scandinavian women have developed a reputation as some of "the most attractive women in the world". The typical assumption of their characteristics is: white, tall, slim, blonde hair, high cheekbones, narrow nose, and blue-eyed.
Is that a fair assessment of what Scandinavian women look like? Not anymore! Of course there is an archetype of the beautiful Scandinavian woman, but that archetype is limited; it doesn't allow for the wide range of gorgeous women that exist within Scandinavia, and have many traits outside of these parameters. Beauty lies in the women of all races, ethnicities, and shapes that live in the region.
The European, pale skin expectation of what Scandinavian women should look like is founded in some truth – in particular, blue eyes and light hair are more common for those with Scandinavian heritage than from any other parts of the world. Finland, Norway, Sweden, Iceland, and Denmark make up five of the six countries with the highest population percentage of blonde hair and blue eyes. Green eyes and light brown hair are also common.
But the idea of these traits being more beautiful than any others is firmly rooted in white supremacy.  It's important that as what it means to be "Scandinavian" continues to grow, so too will ideals for what constitutes "beautiful women."
Here are the inspiring Scandinavian women you need to know about:
Female Scandinavian Politicians
Vigdís Finnbogadóttir
This is a name that everyone should know! The first democratically elected female president, Vigdís Finnbogadóttir served as president of Iceland from 1980 – 1996. Finnbogadóttir's background is not typical of politicians: she studied French literature (in France) and theatre history (in Copenhagen).
In 1980, the focus of the Icelandic women's movement (after the 1975 Icelandic women strike) was to elect a female president. Finnbogadóttir was persuaded to run, and she narrowly won against her three male opponents.
President Finnbogadóttir became extremely popular, with her key causes being environmentalism and the preservation of Icelandic language and culture. She was re-elected three times, making her the longest-running president in Iceland's history. She declined to run for a fourth term.


Sanna Marin
Sanna Marin became the 46th Prime Minister of Finland – the country's youngest ever at 34 – in 2019 and held that position until 2023. She became leader of the Social Democratic Party in 2020. Overall, Marin has been lauded as a strong leader, both thanks to her swift COVID-19 response (she declared a state of emergency very early on), and ultimately unrealised work to pass Samí human rights legislation.
Mette Frederiksen
The youngest prime minster in Danish history when she was elected at age 42, Mette Frederiksen has held this position since 2019. She has been the leader of the Social Democrat party since 2015, and previously served under Denmark's first female prime minister Helle Thorning-Schmidt.
She is best known for her response to the COVID-19 pandemic, which is generally considered to be strong in its quick and decisive actions.
One controversial element of her pandemic response was a directive to cull the local mink population, which was later judged as unconstitutional. There are elements of her party's policies that are conservative-leaning, including voting for a Burqa and Niqab ban, opposition to mass immigration, and opposition to legalized sex work.

Scandinavian Businesswomen and Entrepreneurs
Armi Ratia
The co-founder of Marimekko, Armi Raita is considered one of Finland's most important entrepreneurs. She launched the company along with her husband, Viljo Raita, in 1951. It has become the country's largest textile, fashion, and home furnishing brand, beloved for its playful designs.
Finnish women have been dressing in these great patterns for decades, and since the 60s, the rest of the world has too.
Azita Shariati
Named Sweden's most powerful business woman in 2015 by Swedish newspaper Veckans Affärer, Azita Shariati is the CEO of AniCura, which provides veterinary care for companion animals. She was previously the Swedish leader of French catering firm Sodexo.


Anine Bing
Anine Bing is Danish/Brazilian, and grew up in Sweden. She currently lives in Los Angeles, where she runs her eponymous fashion line, Anine Bing.
Previously a blogger and model, Bing's fashion empire includes 15+ retail stores and a booming e-commerce platform. The brand has seen serious investment, including $15 million in Series A funding in 2018, followed by $14 million in 2019.


Aram Ostadian-Binai 
Founder of NGO community The Soulfuls, Aram Ostadian-Binai has spent her career bringing others up.  The Soufuls, based in Copenhagen, provides events, networking, and mentorship matching for Scandinavian girls and young women in a variety of fields, particularly focusing on those from marginalized groups. Ostadian-Binai is originally from Iran and previously worked as a media and fashion executive.


Female Scandinavian Writers
Karen Blixen
If you're looking for a Danish woman writer whose name is known the world-over, look no further than Karen Blixen. Writing in both English and Danish in the 1930s until her death in 1962. She is most famous for Out of Africa and her short story "Babette's Feast," both of which became popular films. 


Astrid Lindgren
Most Swedes will recognize author Astrid Lindgren as the author of the beloved Pippi Longstocking series (Pippi Långstrump in Swedish), inspiring Swedish girls, and young girls the world-over, to be their weirdest, happiest, most outspoken selves.
Pippi has tremendous self-confidence and is incredibly independent on the one hand, but also outgoing and friendly on the other, happy to share her world with others.
Lindgren is also the author of (among others!) the series Emil of Lönneberga, and children's novels  Mio, My Son, The Brothers Lionheart, and Ronia the Robber's Daughter. Her work has been translated into over 100 languages.


Female Scandinavian Models
Helena Christensen
Born in Copenhagen into a Danish and Peruvian family, Helena Christensen is one of the world's most renown models. She rose to fame as one of the original supermodels in the 1990s.  Christensen was a co-founder and the first creative director of Nylon magazine in 1999, and has subsequently become a well-known fashion photographer.


Josephine Skiver
Danish supermodel Josephine Skriver began modelling internationally at age 18. She has worked in commercial, editorial, and runway settings and is perhaps best known as a Victoria's Secret Angel. Skriver is an advocate for LGBTQIA+ causes and is an ambassador for the Family Equality Council. 


Elsa Hosk
Elsa Hosk is a Swedish woman with two very distinct careers: professional basketball player and model. While Hosk began modelling at the young age of 14, she put that career on hold to finish her studies and then play basketball in the Swedish women's basketball league. She played for two years before undertaking modelling in earnest. She is now a highly in-demand model, modelling for Victoria's Secret, Versace, Dior, and many more.


Female Scandinavian Actresses and Filmmakers
Susanne Bier
Filmmaker Susanne Bier has directed a number of popular films including Bird Box, In a Better World, and After the Wedding. She has also directed television series The Night Manager and The Undoing, among others. As a writer, director, and producer, Bier has won an Academy Award, a Golden Globe, a Primetime Emmy, and a European Film Award. 


Thea Sofie Loch Næss
Norwegian actress Thea Sofie Loch Næss began working in the industry at the young age of eight. She played Thea in Dryads, Christina in The Last King, and Skade in The Last Kingdom. She has been cast in the titular role of Marianne in the upcoming So Long, Marianne.


Inger Stevens
Born in Stockholm in 1934, Inger Stevens moved to the US as a child. Her stage career began when she met her first husband, an agent, and quickly caught the eye of Hollywood. She starred in a number of film and television shows, including "Hang 'Em High," "5 Card Stud," and "A Guide for the Married Man," "The Twilight Zone," "Bonanza," and many more. Her story has a darker side: she died by suicide at age 35.
Stevens' legacy has unfortunately been marked by her romantic relationships, but her soulful work deserves respect.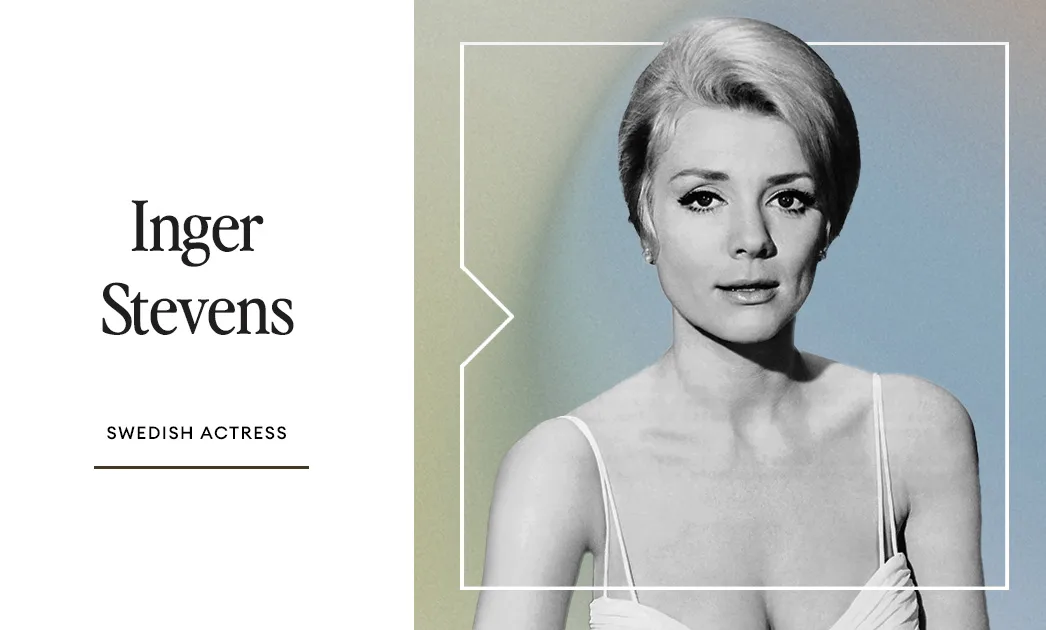 For the full story, see our article on what happened to Inger Stevens.
Noomi Rapace
Swedish actress Noomi Rapace is best known for her dark, intense performance as Lisbeth Salander in the Millenium Trilogy: "The Girl with the Dragon Tattoo," "The Girl Who Played with Fire," and "The Girl Who Kicked the Hornet's Nest." She is one of Sweden's hottest actresses, appearing in many domestic and international films. 


Greta Garbo
Perhaps one of the most iconic actresses of all time, Greta Garbo was originally born in Stockholm and starred in Swedish film before catching the eye of Hollywood. She was in a number of silent films, including "The Flesh and the Devil "(1927) which catapulted her to fame. When film trasitioned to sound, she became an even bigger star with films such as "Anna Christie" and "Camille."
Garbo was notoriously private and almost never attended events or gave interviews. Her androgynous fashion sense, including the slouch hat, trench coat, and cigarette pants, made her a style icon, inspiring fashion trends that continue today.


Want a binge ready list of Swedish films? See the best films of Ingrid Bergman.
Scandinavian Feminists and Activists
Lilli Elbe
Lilli Elbe was a Danish painter and the first trans woman to receive gender-affirming care. After transitioning in 1930, she had a uterus transplant which led to complications that resulted in her death. Elbe's life was the inspiration for the film "The Danish Girl "(2015).


Greta Thunberg
Swedish environmental activist Greta Thunberg has made a name for herself challenging governments, international organizations, and corporations to change their dangerous policies that contribute to climate change. Her straightforward message, unwavering call to action, and youth (she began her international activism at 16) have made her a major face of the environmental movement.


Jasmine Kelekay
Afro-Finland-Swedish scholar Jasmine Kelekay focuses her research on anti-Black racism in the Nordic region. She has written and spoken extensively on Black activism, Black feminism for Nordic women, and concepts of colonization and racialization in the Finnish, Swedish, and Nordic context. 


Scandinavian Women in Royal Families
HRH Queen Margrethe II of Denmark
The eldest child of King Frederik IX and Queen Ingrid, Queen Margrethe II of Denmark has served as queen since 1972. She became queen thanks to a constitutional change during her childhood that allowed women to hold the throne.
While her role is ceremonial, acting as an ambassador abroad, the queen and her family are beloved in Denmark. She is a talented painted, skis, and is known for both her quiet sense of style and love of a cigarette. 


HRH Queen Sonja of Norway
Married to King (then, Crown Prince) Harald in Oslo Cathedral in 1968, Sonja has held the title of queen since 1991. She is interested in hiking and other outdoor activities, as well as taking an interest in the arts, culture, and boosting the wellbeing of vulnerable communities in Norway. 
Queen Sonja is also an accomplished graphic artist and ceramicist. Norwegians generally support their royal family (81% of Norwegians support the monarchy), and Queen Sonja is well thought-of amongst the Norwegian population.


HRH Victoria, Crown Princess of Sweden
Crown Princess Victoria will be the first queen of Sweden to be crowned through absolute primogeniture, due to a constitutional change which occurred during her lifetime. She is a Sustainable Development Goal Advocate at the United Nations, with a focus on water and health goals. The Crown Princess Victoria Fund, set up in 1997, runs recreational events for children with disabilities.


Get a healthy diet of Swedish royalty information with our complete guide.
Female Scandinavian Musicians
Björk
Describing Icelandic singer-songwriter Björk in a few sentences is an impossible task. Over her decades-long career, she has straddled genres, expanded definitions, and eschewed every norm in the book.
The result is an impressive discography that cycles through genres: punk, electronica, jazz, classical, pop, and alt-rock, come together in a unique blend that appeals to the weird, the open-minded, and curious among us.


Robyn
Sweden's indie-pop queen, Robyn has lived many musical lifetimes. Beginning at age 15, Robyn has dropped album after album of sharply-edge dance pop. Robyn is Here, released in 1995, was the beginning of her international success.
In 2005, she launched her own record label, Konichiwa Records,  in order to have creative freedom in her work. Singles including "With Every Heartbeat," "Handle Me," "Dancing On My Own," and so many more, continue to cut up the dance floor.


MØ
Danish local hero MØ (Karen Marie Aagaard Ørsted Andersen) has become a major crossover star since the release of her debut album in 2014, No Mythologies to Follow. Her joyful pop sensibility and pounding beats make for music that's anthemic and easy to dance to, and her skate park-meets-fashion girly style set the trend for the 2010s Scandi look. 
MØ's collaborations with artists including Iggy Azalea and Major Lazer have cemented her as a Danish star to watch. 


Female Scandinavian Designers
Nanna Ditzel
Mid-century jewelry designer, furniture designer, interior designer; you name it, Nanna Ditzel can design it. Some of her most iconic work are Danish design furniture classics, including the Trinidad Chair and the Sausage Chair. 
She also designed jewelry collections for Georg Jensen.


Aino Aalto
Many people know the name of Finnish architect and designer Alvar Aalto, but less known outside of the northern Europe is the name of Aino Aalto. Yes, she was Alvar's wife, but more importantly she was an architect, designer, and the co-founder of renowned design company Artek. She was the company's first creative director, having a major hand in many of its most popular and well-known designs.


Female Scandinavian Artists
Tove Jansson
A Swedish-speaking Finn, Jansson was a beloved illustrator, artist, and writer who is largely remembered for creating The Moomins, a series of children's books.
She was also a comic strip illustrator for the satirical Swedish-language magazine "Garm," and wrote a number of books for adults. Her painting includes murals across Finland, as well as impressionist to abstract works.


Hilma af Klint
Hilma af Klint ranks high as one of the most important and well-known painters from Sweden.
Her influence is immeasurable; in recent years her work as had a resurgence, identifying her as possibly the first abstract painter. Spiritualism deeply informed her work, as did the natural beauty she saw in the world around here.